Beta Beta Beta • Psi Zeta Chapter
From our official website (bbb.truman.edu):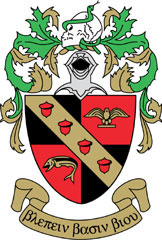 Beta Beta Beta is a society dedicated to improving the understanding and appreciation of the biological sciences. Tri-Beta strives to extend the bounds of human knowledge through scientific research. Since its founding in 1922, more than 145,000 persons have been accepted into lifetime membership, and more than 380 chapters have been established throughout the United States and Puerto Rico.
The Truman State University Tri-Beta Chapters holds the distinction of being one of the largest academic student organizations on campus. Also one of the most active organizations, Tri-Beta offers tutoring to Intro to Biology students, numerous social and networking events for its members, bi-weekly meetings, course reviews, trivia nights, intramural sporting events, service activities for both the University and community, and numerous other activities throughout the academic year. Tri-Beta also assists with deer aging for the Department of Conservation during deer hunting season.
The Service Committee Heads: Natalie and Teresa
Natalie Schodl
Teresa Waeltermann